The SDG Solution Space
A place for aspiring innovators to develop their creative skills 
A community for sustainability at the heart of International Geneva
The SDG Solution Space was created by the University of Geneva for the Geneva Tsinghua Initiative (GTI), a comprehensive, hands-on education programme for training young innovators to tackle the UN Sustainable Development Goals (SDGs). 
Students, researchers, experts from UN agencies and NGOs, as well as citizens from all walks of life, gather together in this open innovation space to develop concrete solutions for practical SDG challenges, during public hackathons, graduate workshops, summer schools, institutional retreats and other innovation and networking events. The space can be rented by the hour or the day. For general enquiries please drop us a line. For reservations, please fill out the form on this page.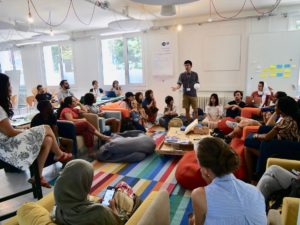 The 330 m2 facility opened its doors in 2017 on the occasion of the first Open Geneva Festival, a week-long celebration of grassroots innovation in all its forms. The space introduces a new spirit of open innovation in the heart of International Geneva. The space is located on the ground floor of Campus Biotech Innovation Park in Sécheron, the old industrial heart of Geneva. Campus Biotech is a joint campus of the University of Geneva and EPFL, the federal technical university in Lausanne. Campus BIotech Innovation Park hosts a range of high-tech startups, NGOs and foundations.
The SDG Solution Space contains an SDG Fab Lab, with a range of digital fabrication technologies such as 3D printers and laser cutters, as well as other tools for quick prototyping of frugal innovations. In addition, to this unique ground-floor space, the SDG Solution Space features an associated co-working space on the 7th floor, which hosts a number of partner institutions and several meeting rooms, referred to as the SDG Ecosystem.
In 2019, a sister SDG Solution Space was established at iCenter, a massive maker space in Tsinghua University, China's top academic institution.
07
08
09
10
11
12
13
14
15
16
17
18
19
20
21
22